Thought I'd pass this on, since it's very relevant to this forum.
I just recently purchased this Elenco Digital Trainer on ebay. Seller ID is "TryC2".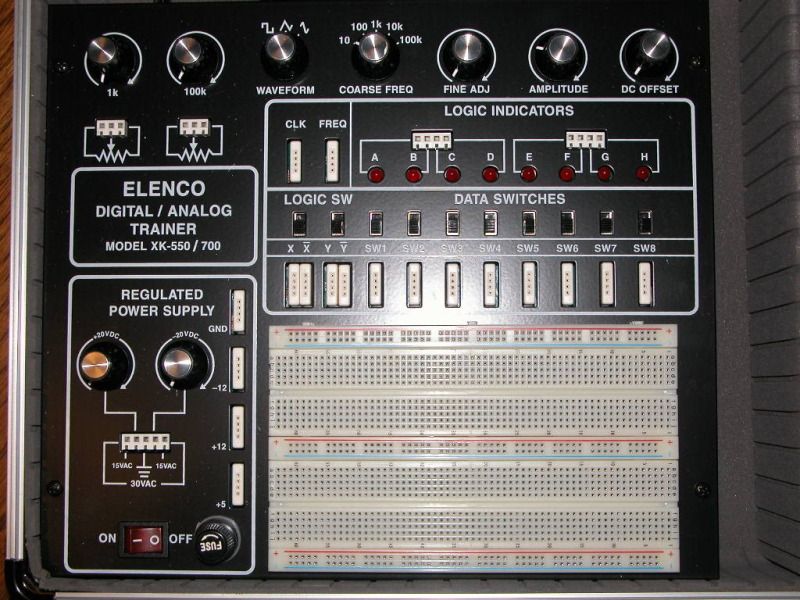 Most of you may already know what this is.. it's an electronics lab. But it also can make for quick prototyping of various circuits you may want to try out on the various ways to use John's boards and other gadgets you may be "bending".
Check the manual out:
http://www.robotshop.com/content/PDF/xk-700-manual.pdf
It has a FIVE built in power supplies (GND, +12V,-12V, +5V, 0-20V variable neg. supply & 0-20V variable pos. supply), a multi-waveform function generator, 2 debounced (logic) switches, 8 data switches, 8 logic indicators (LED's), a 1K and 100K Potentiometer and a sizeable breadboard as well to hook it all up to.
It includes a paper manual with the schematic of the unit inside it. It also has a pair of keys to lock the case up.
These are currently going for around $45 shipped!!!
But even $50 would be a deal, since these units typically are sold for around $250 or more, retail.
THE CASE ALONE is worth about $25.
I was very surprised when I got the unit today. It is brand new and in immaculate condition. It has a very sturdy feel to all of it, including the case.
I dont know how many more of these that TryC2 will be selling, but they've listed several units a week for the past two weeks and it appears they will continue to do so for another couple of weeks. They shipped it to me very quickly & it was very professionally packed. I think these units were intended to be used at a school, but never got opened up for use. Their loss, out gain!
The cases do have a number written across them. Evidently to keep track of inventory at a school.
If you ever tinker around with TTL/CMOS IC's and other components/circuits, this thing makes life alot easier. Plus it's great to use to prototype a circuit and test it out.
The case has a lot of slots to place various tools/pliers, DMM and jumpers. Tools and other accessories are not included. The ones you see in the pics was just for demonstration purposes for this thread.
Out of all the Elenco Trainers I've seen on ebay, THIS is the one to get your best bang out of your buck with.. there is other units that look the same, but have a crappy plastic case.. avoid those if you can, this case is much, MUCH better.
No affiliation, I'm just passing on the info and giving a quick review here.
Pics-